Screenwriter Josh Olson brings us a movie that he swears is actually funny and good! It's the little-seen Serial from 1980! Featuring Martin Mull, Tuesday Weld, violent gay bikers, Sally Kellerman's boobs, casual homophobia, Tommy Smothers in a headband, hot tubs, est probably, psychologically disturbed children whose acting out is played for laughs, etc.
Hear the entire episode for a pledge of only $2/month and get access to all our other bonus content!
For the curious, here is the full Kevin Thomas review of Serial from 1980 that we mentioned on the episode: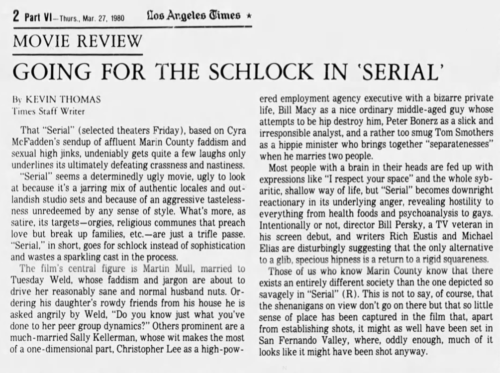 You can also hear more of Josh with Dave Anthony on The West Wing Thing, or with Joe Dante on The Movies That Made Me!
For more Josh, check out our episode on Beyond the Valley of the Dolls!