For this episode, HYST welcomes its first guest! Darren Herczeg, CEO of DarrenCorp, is a filmmaker, performance artist, and gentleman of leisure. Watch his film Barbariana: Queen of the Savages here on YouTube.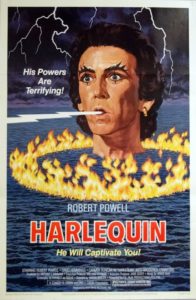 Harlequin (1980)
(aka Dark Forces)
Directed by Simon Wincer
Produced by Antony I. Ginnane
Written by Everett De Roche
Starring:
Robert Powell
David Hemmings
Carmen Duncan
Broderick Crawford
Gus Mercurio
Music by: Brian May
Cinematography by Gary Hansen
Edited by Adrian Carr
Production company:
Ace Productions
The Australian Film Commission
Caidin Film Co.
Farlight Investments
Western Australian Films
Distributed by Greater Union Organisation
Release date:
20 March 1980
The show's theme is "B005" by Monroeville Music Center.