What better tribute to Prince for a movie podcast than to watch the man's directorial debut? Jen and Darren also discuss the Dionysian, the epicene, and how much The English Patient sucks.
For the curious, here's the art for The Perils of Gwendoline in the Land of the Yik-Yak that caught our fancy: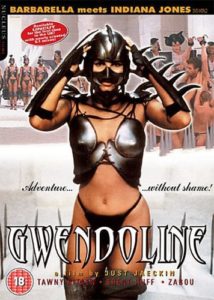 Under the Cherry Moon (1986)
Directed by Prince
Produced by:
Robert Cavallo
Joseph Ruffalo
Steven Fargnoli
Screenplay by Becky Johnston
Starring:
Prince
Jerome Benton
Steven Berkoff
Emmanuelle Sallet
Alexandra Stewart
Kristin Scott Thomas
Francesca Annis
Music by Prince and The Revolution
Cinematography: Michael Ballhaus
Edited by:
Éva Gárdos
Rebecca Ross
Distributed by Warner Bros.
Release date:
July 4, 1986
__________________________
The theme music for Have You Seen This? is "B005" by Monroeville Music Center.